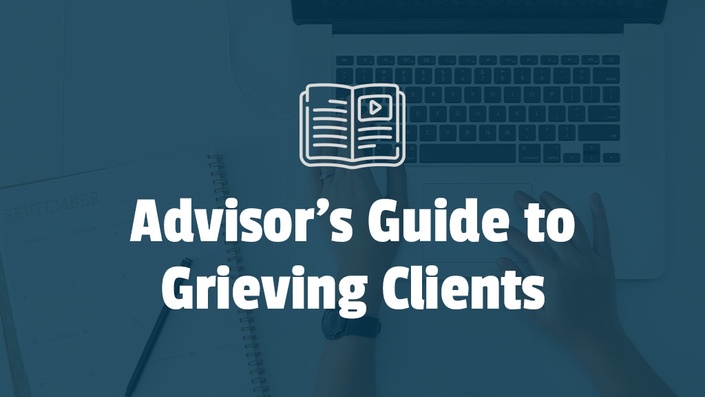 Advisor's Guide To Grieving Clients
Learn how to navigate client grief to help them move through financial and emotional grief without damaging your professional relationship with them.
Watch Promo
Enroll Now
Confidently help clients in grief with empathy and understanding

Learn how to navigate client grief to help them move through financial and emotional grief without damaging your professional relationship with them
Are you experiencing this?
You don't know how to help your grieving client, despite all of your education and experience.
You feel helpless on navigating financial matters in the midst of their grief.
You're not sure how quickly your grieving client should take care of financial matters after the loss of a loved one.
You feel uncomfortable about what to say to your grieving client, as if you're "walking on eggshells."
You care about your clients and want to help them through their grief, but don't have any resources to offer them outside of financial matters.
---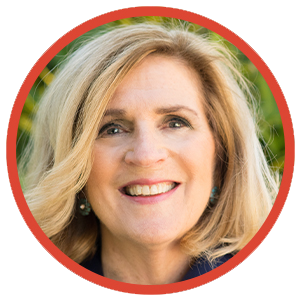 "Grief does not have a schedule, it is unique to each of us. Of all the human experiences planners navigate, I think grief is the most common and challenging. Chris Dale knows grief from the inside out. In his course, he blends his personal experience and his strong technical skills to teach other planners the skills needed to be present as a guide through grief to the rebuilding of the next chapter of life. Grief is a complicating factor for financial planners, it is highly personal, lasts longer than expected and impacts decisions that shape a client's life going forward. Every financial planner needs the training and skills offered in the Life After Grief Course created and taught by Chris Dale."
Susan K Bradley, CFP®, CeFT® Founder of the Sudden Money Institute and Financial Transitionist Institute
---
The Advisor's Guide to Grieving Clients course will help you:
Understand how to help grieving clients to improve client relationship
Learn how to distinguish grieving styles so you know how quickly your client will move through financial steps
Develop better communication with grieving clients
Identify grief triggers and keep your client comfortable when they occur
Navigate family dynamics with confidence
Facilitate the compensation conversation delicately and appropriately
Discover this proven process that can be used immediately to successfully navigate client grief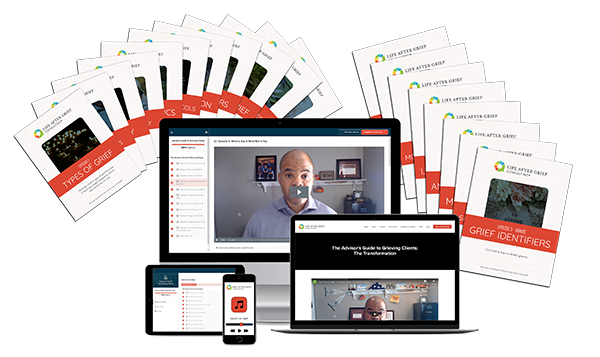 During your learning process, you'll also get:
Visual Step-by-Step guide to help you navigate the process easier
Continual Support - A members-only Facebook group to learn and find additional support from your peers
On-the-go learning - Download course audio and PDF guides to keep and reference anytime you need help navigating client grief
Continuing Education Credit - This course qualifies for continuing education credit through CFP® Board. (Course ID is 259637.)
BONUS - Release of Authorization Form to customize for your own business
BONUS - Grief Identifiers Checklist
BONUS - Understanding Legal Responsibilities of Adult Children
BONUS - Identifying "Sandwich Generation" Grievers
BONUS - Tools for Navigating Money & Systems
BONUS - Aging Parents, Money, & What to Do
BONUS - Having a Great Team to Support You & Your Clients
BONUS - Understanding Anthropoidal Grief
BONUS - Resource Guide to help your clients find support outside of financial matters
---

"As a financial planner, I was taught to work with the data, but emotion isn't data, and if we want to be "real financial planners" we are going to have to learn how to cope with issues like grief. Chris' class digs into not only the stages of grief but the styles of grief, and how we, as financial planners, can help our clients based on their grieving style and stage." Amy Irvine, CFP® - Rooted Planning Group
---
Frequently Asked Questions
What type of course is this?
This is an online, self-paced course. You can email the instructor at any time or ask additional questions in our exclusive Facebook group.
What's included in the course?
There are 10 video episodes with guides to learn from. Each video has downloadable audio you can take on-the-go and PDF guides you can download, print, and reference any time you need them. We also offer exclusive access to our Facebook group which offers additional support outside of the course itself.
How long do I have access to the course?
We use the Teachable platform and you'll have access to the course as long as it's active. You can also download the audio of each video and the guides from each class to keep as long as you like.
If I need additional help with a grieving client, who can I talk to?
Your instructor, Chris Dale, also offers consultation to advisors like yourself that seek a more personalized experience. After you've enrolled, you'll have an opportunity to add this consultation package to your order. You can also utilize the exclusive Facebook group to discuss possible solutions with other students as well as your instructor, Chris.
Do I have to be a part of the Facebook group?
No. Although we do recommend joining the group, it's not a requirement. The Facebook group is a continuation of your education and further learning about working with grieving clients. If you're not interested, that's okay! There is no requirement to be a part of the Facebook group.
How do I get the Continuing Education Credit for this course?
This course is approved for Continuing Education credit through the CERTIFIED FINANCIAL PLANNER™ Board of Standards for 3 hours. The course ID is 259637. After enrollment, you'll receive a customized email that will prompt you to apply for the credit. Please note: Joining the Facebook group is not a requirement to gain credit.
Do you offer a group discount if I enroll my team?
If you're looking to enroll your team of 10 or more members, please email our support team for a group discount. Some restrictions apply. Email
[email protected]
What if I'm unhappy with the course?
If you're unhappy after taking the full course in the first 30 days, please email us to discuss the problems you're facing. If we cannot help you, we will gladly offer a refund. Email
[email protected]
Here's what advisors like you had to say about the course:


Kerrie Bean, CFP®
"The class has given me the confidence and ability to be able to connect and understand grieving clients on a deeper level. The platform is easy to follow and Chris does a phenomenal job in his videos and providing helpful resources."

John Chesbrough, CFP®
"Chris was a tremendous help to me. He helped me assess how my client would grieve, and to think through my client's financial and emotional needs. Plus, he provided me with some important emotional support as I supported my clients...
Chris is a huge help to advisors who want to help their clients move through their grief."
Your Instructor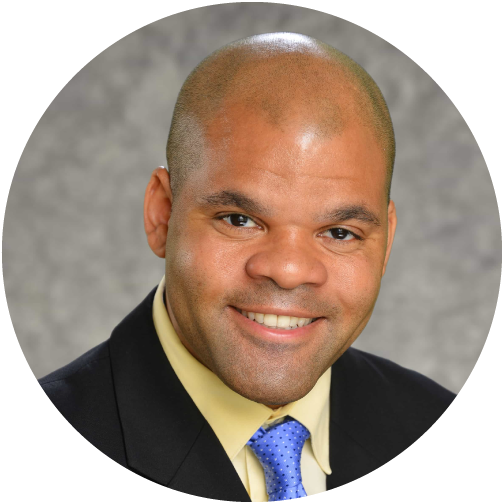 A financial planner since 2003, Chris Dale is regularly seen in his local paper, Orlando Sentinel, and many other online publications. His primary focus is on helping advisors understand the grieving process, but he also helps his own clients in his financial planning firm, Life After Grief Financial Planning.
His firm has won many awards, including the Expertise.com's Best Financial Advisors in Orlando in 2019, 2020, and 2021.
Are you prepared to work with grieving clients
A Personal Message from Chris
"In 2008, at the peak of the recession, I lost my mother to cancer in August. A few months later, I lost my father to a broken heart in November. Then I lost my grandmother in 2010. Two years after that, I experienced the loss of my oldest child. These traumatic experiences have strengthened me greatly. I want to help you deepen your understanding of grief and give you processes that will help you feel confident and prepared to help your clients.
Together we'll go over ways to distinguish your client's way of grieving, methods of effective communication to grieving clients, and help you feel more confident and prepared in your practice.
It's important to me that you feel prepared when facing uncertainty during times of grief. The loss of a loved one can rock financial stability, both for clients and advisors.
I'm here to help you through this process, every step of the way."
---

"As a widower myself who runs a firm focusing on fellow widowed spouses, Chris's course resonated powerfully with me. I walked away with actionable best practices, client tools, and helpful information that went even beyond my own personal experience that I've implemented into my practice. If you feel awkward or are unsure how to best help grieving people, take this course!" Daniel Kopp, CFP®
---